During our school days, we've been taught about The Food Pyramid, or even if you were to go to a dietition these days - they still talked about this old Food Pyramid (I know that because during my initial days of trying to lose weight, I did go to one of those dietation session - the lady dietation explain the details of this pyramid (posted on the wall), and why we need to take a lot of grains etc etc).
Here's the traditional Food Pyramid (published in early 80s) that we've learnt over the years.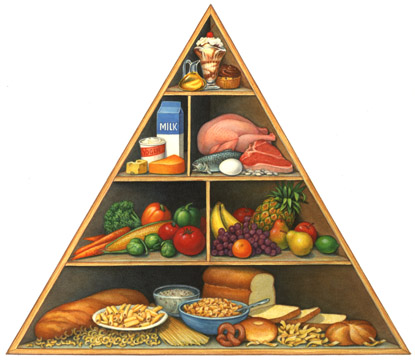 Do you know because of this food pyramid - we're mis-informed, and since they (whoever that produce it) published it, the rate of obesity in the world increases?? - do a search on
uncle google
, and you'll find studies after studies proofing it.
The traditional food pyramid actually suggested that in a day, we need to take food based on the food groups. From the base of taking a lot of carbohydrates from grains in a form of breads, rice, pasta, etc to a narrower/higher in the pyramid of other food groups like veggies, chicken, meats, milk, eggs and take sparingly of oils, ice-creams, cakes.
I've learnt throughout my journey - if I were to stick with this recommendation, I won't lose the fat and lose the weight. The key to my diet, is to
choose the types of carbohydrates, protein, and fats (no such thing as low-carb diet, low-fat diet, low-protein diet)
...so Dr. Atkins is wrong?.. you bet.
Further to that, in my own diet, I tend to eliminate or avoid some food groups altogether. Like refined grains products, processed/packaged food, and sugar (as much as I can). On carbo, focus on complex carbohydrates only, that is high in phytonutrient index - that's the key of increasing your metabolism and control your insulin levels through-out the day. On fats - I eliminate as much as trans-fat as possible (this is another reason why I avoid processed/packaged food), and go sparingly on saturated fat. On protein - make it at every meal, in its most natural form as much as possible. and most of all - focus on getting a lot of fiber! (both soluble and insoluble types), and drink a lot of plain water!.
So there you go! - hope you've learn something new today.
let's get healthy!
Sher Khan.